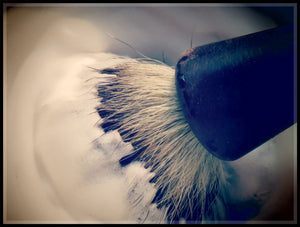 Lather staying power
When you get into classic wet shaving you will learn about certain terms not quite beknown to you, one such concept is the 'staying power of lather'. This is quite important as traditional wet shaving can become a lengthy affair if you fall in love with to-die-for shaves. My face likes a single pass with the grain on my cheeks, and a single pass across the grain in my neck, but some guys like a 3 pass shave; with, across and against the grain on all parts of their face to get a BBS (Baby butt smooth) shave. Those guys lather up their faces three times per shave, and for this you need your lather to stay in its lathered up state for a good couple of minutes.
This is the reason I whipped up a lather one morning from some soap left over from experimenting with a new fragrance and let is stand, I took pics at various intervals, as it was an impromptu test the pics are of a poorer quality, but good enough for the purpose of this blog. I took some at various angles, with and without flash and the coffee grinds will attest to 'no cheating'. The time the pic was taken is inidicated below it. I will delve into lathers some more on future blogs, but this one needs to get out there as I need to clear up some space on my phone, and the shaving pics are taking over! Scrutinize away!
06:28
06:28
06:28
06:28
 6:59
6:59
6:59
07:00
07:00
07:30
07:30
07:30
07:30
08:15
08:15
08:15
08:37
08:37
08:37
08:37
09:00
09:01
09:01
09:01
09:01
09:26
09:26
09:26
09:26
10:42
10:42
10:42
10:42
12:54
12:54
12:54
12:54
So, in conclusion; if your shave lasts six hours and twenty six minutes we got your lather covered!
---