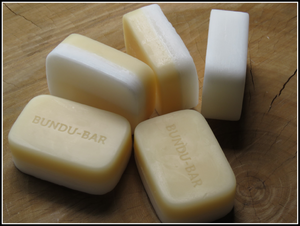 This is Bundu-bar
Meet Bundu-bar, a shampoo and conditioner bar as 'local-is-lekka' as boerewors and Table mountain. This bang-for-your-buck product was conceived to bring a practical, economical shampoo and conditioner product to market. Shampoo and conditioner bars are gaining traction and are already widely used by Zero-wasters, minimalists, travelers, sportspeople, folk who advocate responsible living and persons passionate about the environment. Although we certainly hope to gain part of this market, we are aiming much wider with our targeting of everyday consumers, it is meant to be a simple first step into reducing one's personal waste.
Most consumers are becoming aware of the movement towards using products that are more eco-friendly, many understand that there are better options out there. They also understand that handmade products are more expensive on account of higher production costs in both labour and raw materials, unfortunately most simply cannot afford to pay twice or three times the amount they have available in their budget for a hair product, that is why we developed our bar to slot in at the middle-low end of the market when comparing pricing to current bottled products.
It is difficult to compare it to conventional shampoo and conditioners as most are in liquid form, and every person uses their grooming products in different ways and quantities, not to mention price variances. As a basic comparison our 200 gram conditioner bar converts 3 to 3.5 liters of liquid conditioner, depending on the viscosity the user prefers, our 200 gram shampoo bar also makes around 2 liters of shampoo, we'd say pound for pound it will be very hard to beat the Bundu-bar when you compare economy and quality with other products, and that includes mass produced products. Feel free to do the math and see how much three liters of conditioner sets you back, you might be surprised. a Future blog on our Bundu-bar will give guidelines on how to convert it from solid to liquid, this is for those who prefer to buy the bar and use it in liquid form by simply refilling their existing containers. The bar is also good for shaving and using as a body bar, so if you are someone who likes to simplify life down to the very basics this bar will go the distance, but more on that on a next blog.
Developing the product was interesting, the design concept was a bit 'unusual'. We paid little attention to words typically used to entice consumers into buying hair product, words such as 'PH-balanced, nourishment, moisturizing, feed-your-hair, root-to-tip, hydrate and invigorate'. None was not on our list of requirements, ours was much simpler. The conditioner had to soften your hair, give it some body and generally act like a typical conditioner. Our shampoo must clean your hair, put back some of the oils that was stripped and NOT make you look like a scarecrow when it dries naturally. Simple parameters makes a product easy to develop and  manufacture, easy to use, and very importantly able to compete with mass producers. We don't sell marketing, we sell a product that will do what it is supposed to, its really that simple.
How good is it? Its very good. It is certainly on par and better than many of the products available on the shelf commercially, we have been selling it online without marketing for a few months to gauge feedback and it has been very good. We've had great to fantastic feedback, from both men and women. a Lady customer recently said it is the best product she has come across in many years of searching for something that suits her hair. We have couples, individuals and entire families using the Bundu-bar, and this is very encouraging indeed.
One thing that surprised us was the ratio at which the components are used, with the bottled stuff the conditioner normally finishes before the shampoo, but with our bar it was the other way round, we realize that these ratios would be different with every person and that's why we offer the bar in various ratios ranging from 8:2 (shampoo conditioner) to 1:1. As a simple guideline I'd suggest persons with short hair to try our 70/30 shampoo/conditioner to start with, mine lasted about 3 months using it daily. We also supply full shampoo and conditioner bars. Our recent interaction with a blind couple has also made us reach a decision to fragrance the conditioner side of our bar with a peppermint and menthol (white side), and not the same as the shampoo bar (coloured side), which we now offer in Rooibos and Sandalwood, this way people who are impaired in some way can easily learn how to use the product. Interacting with impaired folks brings a new perspective about how simple tasks can be quite difficult for them, sadly, this is a design parameter not really featuring in everyday consumer products.   
Is it perfect? Certainly not. Hair types, personal preference, water quality, physical location, product storage, and pre- and post hair treatments applied to hair are all factors that will influence how the bar will keep, perform, and the results it will deliver. Generally, as with any product it will suit some consumers and some not, that being said, we do anticipate it will add value to the largest segment of consumers this market has to offer. 
We'd love to offer new formulations, possibly something for various hair types, a variety of fragrances and sizes, and also options like fragrance free, all natural, and palm-oil free, but this can only happen if our bar proves to be a hit, so buy our bar and give feedback! Buy it as a gift, show it to people at the gym, tell colleagues, BFF's, mates, buddies, family and foes. Feedback, feedback feedback, this is what we need, good or bad. If it does not work for you pass it onto someone who might find it the perfect addition/replacement product in their grooming routine. We realize that this product or some of the ingredients used may not be perfect for you, but with your continued support us we will be able to offer a future product that might be, so bend your rules a little bit and help us change the way hair products are distributed. 
Some challenges we experienced were the hardness of the bars, make it to hard and it becomes tedious and difficult to apply, too soft and it does not last long enough or goes all floppy when it gets halfway through. Humidity plays a huge roll in the longevity and physical properties of the bar while in use. When storing, always try and keep exposure to humidity at a minimum, ours lasted pretty good left open on our shower rack in a well ventilated bathroom, but at the coast you might need a different approach. We have made provision in our store for a soap container as the bar is quite large and won't fit most containers, this could be part of your solution and is also great for travelling and long term storage. The bar comes wrapped in a biodegradable wrapper made of cornstarch, and we are also investigating a kraft solution.
The dream is to see billions of shampoo and conditioner bottles disappear from shop shelves all over the world, not only reducing the use of fossil fuels for the production of these bottles, but also preventing them from ending up in landfill, in our waterways or quite simply any other place on earth where they have no purpose other than to become a burden on the environment. Apart from packaging savings, more compact products has a huge impact on logistical costs, where you needed 5 trucks to supply a shop you now only need one! Reducing logistical costs for shampoo and conditioner by 80% would be remarkably beneficial to our planet.
We need to make better choices, this one is easy to make and will have little, if any negative impact on your monthly grocery bill. Learning to use a bar does present a bit of a learning curve, but never having to throw out a plastic shampoo or conditioner bottle in your life again will be well worth the reward! 
Find the bar under 'Hair muti' on our website or click here                
---